How To Select The Right Painting Company For Your Project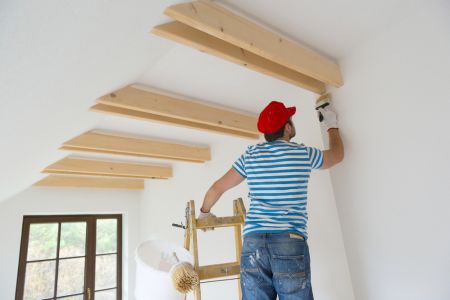 If you're nervous about hiring the right painting company to help you with a project, follow these tips from our pros on how to choose the best local house painter and what to ask when you call.
One of the first things you'll want to be sure of is whether they're a legitimate company or a fly-by-night contractor who may not be licensed, certified, or insured to do business in your area legally.
Your painting company should be licensed to do business in your local community. They also need to be adequately bonded for liability and insured under Worker's Comp.
Licensed
Bonded
Insured
Business registered in your county
Never be afraid to ask the painting contractor about licensing and insurance. Any legit painting company should be willing to show you copies of their license and insurance certificates.
Ask if the company if they offer a guarantee on their work
You will want to know that your house painter will take care of any problems if you are not satisfied. Ask them if they can show a written guarantee to you and read it over carefully.
Satisfaction guarantee
Product warranties
Extra coverage
Some will go the extra mile and give you an extended warranty on the products they use too.
Ask the painting company how long they have been painting houses in your area
When it comes to letting someone repaint your house or provide new construction painting services, you want to hire a reputable, local painting company that you can trust. It's essential to ask questions when you talk to each prospect and check on what they claim by searching for reviews and asking the painting company for references.
Specifically, you'll want to know:
Number of years they've been serving area
BBB reputation and customer complaints
Online reviews from google, social media, their website, etc.
Client references by word of mouth
Also, search for their company name and any information you can find in the BBB business directory database. The BBB typically lists businesses of all types. You can check the data to see the start date of the company, the name & location, and sometimes the complaints their past customers may have about their services.
Check out what type of house painting services they offer
If your potential house painter offers specialty services like faux painting and texturing, you can bet that they have some skill and experience. The more they can do for you, the better.
Wide range of services
Faux painting
Designer Texturing
Accent walls
Epoxy flooring
etc.
Find out what the painter will do and won't do
Don't be afraid to ask the painting company how they prepare your house before painting. You want to make sure they cover and protect your floors and other belongings.
You'll also want to know if they can repair drywall or do a little light carpentry work. Filling holes, replacing damaged trim, and surface preparations should be first on the to-do list to achieve a beautiful finish, and it's more affordable if you don't have to hire separate contractors.
Protective drop cloths
Taping
Surface prep
It is much better to know what to expect from a service provider before the work ever begins rather than to run into problems later. Knowing in advance can help to avoid delays, save you money, and ensure that you will be satisfied.