Keep Your Commercial Property Looking Professional With Commercial Paint Touch-Ups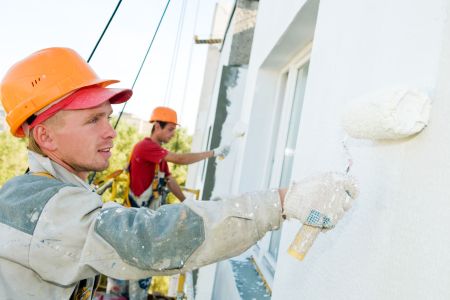 Are there interior or exterior areas of your building that need a little touch-up painting? Don't hesitate to give our premier Oklahoma City painting company at Kevin Nail Paint Contracting a call if we can help you with commercial paint touch-ups in Oklahoma City or our other service areas.
Not only are we ready and willing to help our clients with smaller jobs like commercial paint touch-ups, our Oklahoma City painters great at color matching!
We work hard to ensure you're entirely delighted with the results so that you can have peace of mind knowing who to call for your future projects.
Free Consultations & Project Bids
Expert Quality Craftsmanship
Commercial Painters with Decades of Experience
Dedicated to Your Complete Satisfaction
We offer free consultations and competitive estimates for commercial painting in Oklahoma City and the surrounding areas, so please take a look at the services you need and what we offer. You can either submit a request via our website contact form or give us a call to speak to our staff!
Our Commercial Paint Touch-Ups and Maintenance Painting
Every surface in your commercial building in the Oklahoma City area will need some touch-up painting work as the previous paint job ages. At some point, you'll want to let an experienced local contractor take care of the maintenance painting so that your business can continue to look pleasing and inviting.
With routine painting maintenance, our professionals can also help you ensure that the building materials underneath the paint always stays sealed, waterproofed, and protected.
Metal Painting
Stucco Painting
Concrete Painting
Wood Painting
Concrete Coatings
Sheetrock Painting
Touch-Up Painting Over Graffiti
Commercial Interiors
Commercial Exteriors
Maintenance Painting
Trim Paint Touch-Ups
Brick Painting
and more