Liven Up Your Oklahoma City Kitchen and Bathroom With Cabinet Painting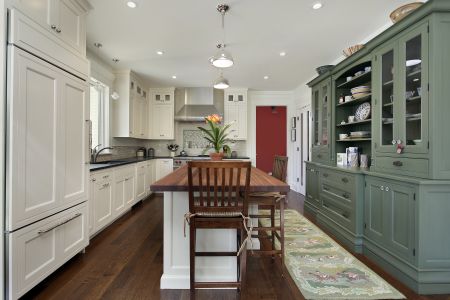 Kevin Nail Paint Contracting is an Oklahoma City cabinet painting specialist with years of industry experience to offer you and your family. If you're dreaming of getting a custom designer look for your home, cabinet painting is just what you need for your kitchen, bathrooms, and other areas.
With our more than four decades as industry professionals, our dependable painting company can use a variety of specialized techniques to create different custom painted looks for your cabinetry, including solid colors, decorative textures, distressed designs, and faux finishes.
Kitchen Cabinet Painting
We are great at helping our customers with the design advice they need and would be happy to help you choose between all types of kitchen cabinet painting and stain finishes for your interior painting project. We'll go over various options and help you choose the stain or paint colors too. Just call to schedule your free consultation if you're ready to get started on your project and get a competitive quote today.
Bathroom Cabinet Painting
Whether it's your master bathroom, tiny guest bath, or a shared family bathroom, painting the cabinets is a great way to change how the interior space looks. It's more affordable than tearing out the old vanity and shelving and will go a long way to make you feel better about the bathrooms in your home.
Your bathroom cabinet painting project can be taken to a whole new level if you choose our experienced professionals who can create a custom look. With our help, your cabinets, walls, ceilings, or woodwork can be custom painted in any style you like.
Antiquing
Faux Wood
Broken Color
Sponge Painting
Rag Rolling
Rag Painting
Stippling
Crackling
Metallic
Faux Marble
Glazes
Distressing
Gliding
Stenciling
Intricate Designs
Texture Painting
Cabinet Project Photos