Painting Tips And Ideas For Small Bathrooms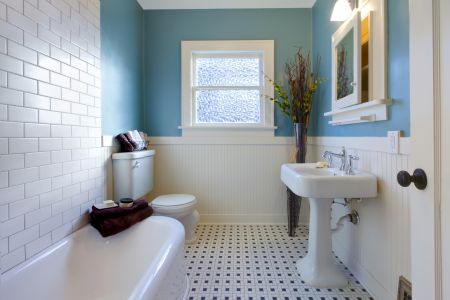 If you're planning to paint a small bathroom, you may be looking for tips and ideas about how to make the room seem larger and more inviting. While painting won't actually enlarge the space, there are several ways you can use it to make a small bathroom seem larger and more pleasing to the eye.
There's nothing like updating the look of a room to change how you feel about the space. Of course, you always risk that it won't turn out right when you make changes, but with the right advice from your painting contractor, you'll find that your small bathroom is your favorite room in the house!
If you need more tips and ideas from an experienced Oklahoma City house painter, don't hesitate to reach out to Kevin Nail Paint Contracting.
Wall Lengthening Ideas For Painting Small Bathrooms
Painting horizontal lines and stripes can help you create the illusion that your small bathroom is wider. Plain walls look closer to you, but painting a horizontal stripe in a different color makes the walls seem to stretch away. It's all in how you use these stripes to draw the eye down the length of the room.
You can try painting a horizontal stripe above the tile lines in the bathtub and shower areas so that it draws your eye around the entire bathtub space, making it seem stretched out before you. Optical illusions are fun!
Choosing Bathroom Paint That Shimmers
The bathroom is a great place to bring some shimmer into your decor! The play with shadow and shimmer brings a dimensional element to the design, making the darker areas seem further away as you look at the space.
A beautiful semi-gloss can gently reflect the natural or artificial light in a bathroom, but you can also play with gloss paint if you prefer. With a few mirrors positioned in the right place to reflect light, it will really help to brighten and lighten your space.
Be careful not to overdo the shimmer with a high gloss that covers every surface, or else the resulting design can look cheap rather than sheik. You want to create shadow and play with the shimmer, so be sure there are some darker areas left in the room, such as in a shadowy corner.
When Choosing Accent Decorations
When you pick out accent pieces with the decorations, be sure to select one that contrasts or stands out. The accent colors help to create the dimensional illusions we've already talked about, the play between shadow and shimmer. Be tasteful in choosing your decorative items, and keep the design theme simple yet elegant.